Tek1 Pty Ltd is the leading name in the industry for high quality structural steel  drafting services  (steel detailing) for commercial, industrial and residential projects. We provide drafting services and structural shop drawings for a wide variety of clients across the globe.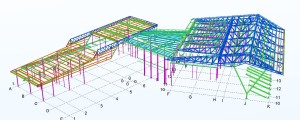 With a large customer base in the US and Australia, we pride ourselves on delivering the highest quality workshop drawings  making life easier for our clients, the architects, and the engineers. Our keen attention to detail and remarkable customer service helps in creating professional and accurate structural shop drawings.
We have 15 Tekla Licences Operate 2 shifts, Employs 30 highly skilled detailers.
Kolbe Secondary College Model
We render precise drafting services thanks to our extensive technological expertise and experience. Our tools include Tekla Structures Version 14 to 20 and AutoCAD.
Download sample drawings from Drop Box
We provide the following services:
Material Take Off (Estimation of steel in your projects)
Structural Drafting (A service to Structural Engineers)
Structural Shop Drawings for oil and gas, commercial, Industrail, facades
We employ BIM Compliant Steel Detailing
Our models are BIM compliant. We can easily transfer data between Revit, Autocad, Microstation and other BIM compliant software. Today more and more architects are switching to BIM via Revit. Tekla is the software that we use most, which is also BIM compliant and can use IFC format if provided. Tekla can also export IFC model which Revit users can easily import into their model.
As part of our standard deliverables, we issue a BIMSight Model for our clients and architects so that our model can be easily viewed. BIMSight is Tekla's initiative to make Tekla models shareable.
Need some work done?
Call us on +61 3 9560 6397 for a highly reliable draftsman in Melbourne, or drop an email on info@tek1.com.au to discuss your requirements.
Find us on facebook https://www.facebook.com/Tek1PtyLtd
https://plus.google.com/u/0/b/105586748203612560370/+Tek1AuMelb/